Phoenix
Valley family details unique bond with Harris' hawk duo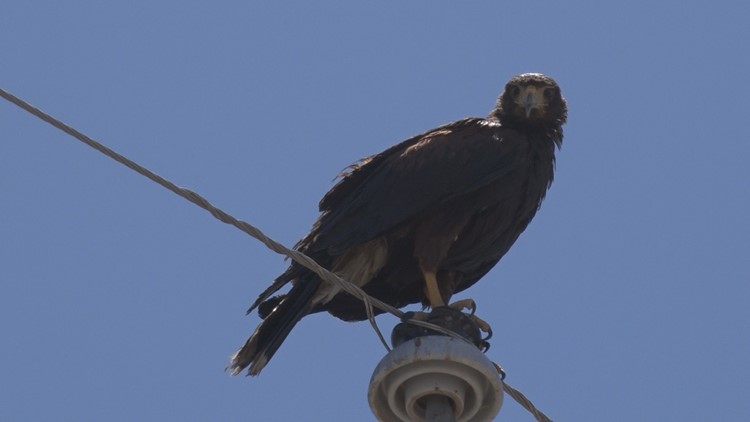 Kassie and Taylor Duke moved right into a home in January, not figuring out they'd type an obvious bond with a pair of Harris' Hawks of their yard.
APACHE JUNCTION, Ariz. — In the tall pine tree within the yard towards one of many higher branches, sits one hawk. 
It's one of many locations it often perches, Kassie and Taylor Duke mentioned. This hawk is the larger of the 2 that go to them,
"The bigger one seems to be more friendly with us," Kassie Duke mentioned. 
The Dukes moved into the Apache Junction house again in January, and some weeks later observed the pair of Harris' Hawks hanging round in a nest of a neighbor's tree.  
"When we first moved here we were trying to figure out what all the screaming was," Kassie Duke mentioned. "We weren't expecting that at all."
That "screaming" sound is a wonderful option to describe how the birds talk and use it to name again to the couple.
"You can wave at it," Kassie mentioned. "I don't think that'll happen today, but it'll kind of put its wing up just like ever so slightly, the little head bobs at us and stuff." 
Two months in the past, they introduced their son house to their home and the hawks observed too. 
"It started like bowing," Kassie Duke mentioned. "I don't know what that was all about, but it was super happy to see us and it was going up and down and up and down so and he seemed happy he was out of me." 
Kassie and Taylor are not any strangers to birds, having rescued some now and again prior to now.
"We've tried to save a lot of woodpeckers, little Gila woodpeckers and stuff that even showed up at our apartments," Taylor Duke mentioned. 
"I almost wonder if somebody had (the hawk) as a baby and let it go at one point," Kassie mentioned. "Because it's not scared of us, it's not territorial, it doesn't want to fight us or anything."
However, there may be one factor they might reside with out the birds leaving on their doorstep.
"It's normally just a whole bird by the door," Kassie mentioned. "I think it's trying to feed us or something." 
RELATED: AZGFD presents $1,500 reward in capturing, killing of two javelinas in Cave Creek
RELATED: 'Trying to avoid wasting all of the fish': How I-17 building crews, researchers work to avoid wasting fragile Arizona ecosystem
Get as much as Speed
Catch up on the most recent information and tales on the 12 News YouTube channel. Subscribe immediately.