Politics
Truck Driver Rams Into Abortion Rights Demonstrators At Roe Rally In Iowa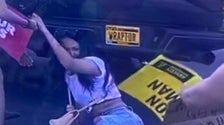 A truck driver careened into a bunch of demonstrators in Cedar Rapids, Iowa, on Friday as they crossed the road throughout an in any other case peaceable protest of the overturning of Roe v. Wade.
The unidentified male driver of a Ford truck rammed into a number of protesters — all of them ladies — on the tail finish of a procession, rolling over one girl's ankle and sending her to the hospital, witnesses stated.
"He tried to murder them," stated an area journalist and witness to the assault, Lyz Lenz. "These women see him coming and a bunch of people put their hands out to stop him. And he just keeps going."
Multiple witnesses, together with one of many victims, described the scene in interviews with HuffPost: The male driver was ready behind a number of automobiles at a crimson gentle downtown as a throng of protesters crossed the road.
He grew to become "impatient," as a number of witnesses stated, and hit the fuel, maneuvering round a number of automobiles to ram protesters.
Video taken by Linn County Supervisor Stacey Walker reveals a number of ladies standing in entrance of the truck with their arms outstretched, attempting to get the motive force to cease. But the motive force retains pushing ahead and bowls them over, injuring a number of of them.
One of the demonstrators, Alexis Russell, could be seen within the video holding a protest signal and reaching into the motive force's facet window because the truck rolls ahead. She advised HuffPost that she was attempting to steer him away from the opposite protesters.
"I had a fight-or-flight response," Russell advised HuffPost. "He had his window down. I grabbed the back of the window to keep up with his car and tried to grab the steering wheel. At some point he grabbed my sign and ripped it, and I fell, and he proceeded to run over one of the girls."
Russell stated she was "shaken up" however in any other case unhurt. The hospitalized girl, she stated, was "totally distraught."
City Councilwoman Ashley Vanorny confirmed that Cedar Rapids police had been known as and had been investigating.
Several witnesses argued that the assault was motivated by anger over the protest, which was simply one in all many who flared up throughout the nation after the U.S. Supreme Court struck down Roe v. Wade and Casey v. Planned Parenthood on Friday.
Molly Mank, a witness, advised HuffPost that the person didn't give any audible indication that he was anti-abortion, "but he did go out of his way to hit protesters in the street who had very visible, very clear signs that they were pro-choice."
"It makes me feel like the pro-life movement is a completely lie if, in order to be against people who are protesting for abortion rights, you try to murder them in my street, in my neighborhood," stated Mank. "It makes me very, very sad, very hurt and very angry that this is what people think pro-life means."
More on the Supreme Court abortion ruling: