Politics
Republican Candidate's Bonkers Campaign Sign Has Everyone Puzzled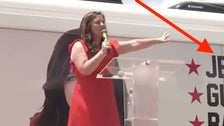 A Republican candidate looking for the occasion's nomination to run for governor in Georgia held an occasion with a "Jesus Guns Babies" signal on her bus as she insisted that the state is a Christian theocracy.
"We're gonna do a political rally and we're gonna honor Jesus," Kandiss Taylor said on Sunday, then dismissed any notion of separation of church and state.
"We are the church," she mentioned. "We run this state."
She launched right into a complicated clarification about how the church, as a business, can't management the federal government "monetarily," however that the church's individuals do in truth management the federal government.
"We are the church, and if it's of, by and for the people, the church runs the state of Georgia," she mentioned. "This is our state. We decide what happens."
Taylor is polling a distant third within the Republican gubernatorial main, with about 6 % ― effectively behind incumbent Gov. Brian Kemp, whose largest challenger is former Sen. David Perdue.
Twitter customers known as out Taylor for her push towards theocracy… and particularly her puzzling "Jesus Guns Babies" signal: