With portrayals of her life in Spencer and Netflix's The Crown persevering with to captivate audiences worldwide, it's clear that intrigue in all issues Princess Diana is exhibiting little signal of slowing down. All areas of the late Princess' life and preferences — together with her favorite meals, snacks of alternative, and go-to magnificence merchandise — stay a excessive matter of curiosity amongst many. Speaking to Bustle, the previous royal chef, Darren McGrady, shared some little-known particulars about Diana's foods and drinks preferences, together with her alcoholic beverage of alternative.
Having spent 11 years serving Her Majesty the Queen at Buckingham Palace, and dealing for Princess Diana at Kensington Palace following her highly-publicised break up from Prince Charles, Chef McGrady is well-versed within the consuming and ingesting habits of the British royal household.
In an unique interview on behalf of UK espresso retailer Coffee Friend, Chef McGrady disclosed that, though Princess Diana "wasn't a big drinker," she was keen on the occasional Chardonnay. "Puligny Montrachet was the wine we served the most at Kensington Palace," McGrady defined, including that, regardless of her fondness of this specific Chardonnay, Diana was not a fan of champagne, pink wine, or cocktails.
"I remember in the kitchen one day she came in, and there was an event going on. She was talking about the drinks and said, 'I can't take champagne, it just gives me the giggles so I have to stay away from it.'" McGrady continued, "She also couldn't drink red wine as it gave her the most awful headache, and Diana would stay away from cocktails – they would zap her out completely."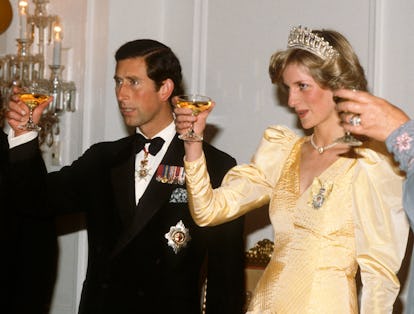 Although alcohol wasn't considered one of Diana's favorite indulgences, the late Princess would like to snack on Cadbury's Twirl chocolate bars, cheese, and lychee fruit.
"I would keep a bowl of lychee fruit in the kitchen all the time. Diana would come in, pull up a chair, and just chat while eating fruit and cheese like a squirrel," chef McGrady recalled. "She would leave the kitchen covered in shells and stones."