Phoenix
Mesa police arrest and charge man on suspicion of felony charges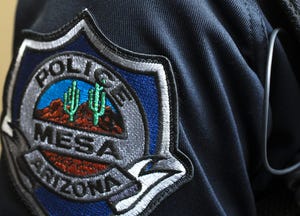 A business proprietor estimated repairs will price $15,000 after a man concerned in a single of two Mesa police shootings over the weekend drove his automobile by way of the business, arrest data present.
Around 5 p.m. on Aug. 21, Mesa police officers have been concerned in a taking pictures at Dobson and Baseline roads with a man wished for murder in Albuquerque, New Mexico, and a felony warrant from Colorado. 
The Albuquerque Police Department notified the Arizona Department of Public Safety that they believed 36-year-old Kevin McKinney was in Mesa. DPS then contacted Mesa police to find McKinney. 
McKinney was seen inside a retailer, buying a brand new cellphone, in line with arrest paperwork. After he left the shop and obtained again inside his automobile, police say they confronted McKinney by blocking him in with their automobiles.
According to court docket paperwork, in an try to flee, McKinney drove over the curb and onto the sidewalk, crashing by way of the entrance window and wall of a business.  
A buyer seated contained in the business was nearly damage by McKinney's automobile, data present. An officer shot McKinney, who was then taken into custody and transported to the hospital. According to a press launch, no officers or clients have been injured. 
According to police data, after McKinney was arrested, a revolver was seen in plain view in the passenger seat of the automobile. During a search warrant of the automobile, police found the revolver was loaded, and the hammer was positioned within the "cocked" position.  
According to the police report, the business proprietor estimates it will likely be $15,000 to restore the damages.
In the court docket doc, McKinney admitted to driving into the business to evade police and that he's a convicted felon and doesn't have the correct to own firearms. 
On Aug. 21, McKinney was launched from the hospital and arrested and charged on suspicion of a number of felony charges, together with aggravated assault and endangerment.