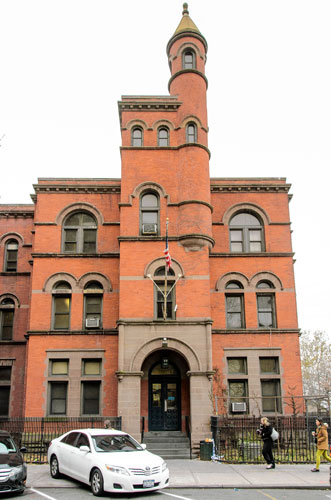 88th Precinct
Fort Greene—Clinton Hill
Bench burglar
Some jerk robbed a person sitting on a bench on Fulton Street on Aug. 23.
Police stated the sufferer was sitting and minding his personal business on the nook of Flatbush Avenue Extension at 8:30am when the punk approached him and requested for money. When the sufferer stated know, the thief reached down and began looking out by means of his pockets, so he obtained up and began to stroll away — however the jerk adopted, then slammed him towards a wall and stole his debit card, EBT card, and MetroCard earlier than operating off.
Petsitter attacked
A person robbed his good friend on Monument Walk after the pair argued a few lost canine on Aug. 25.
Police stated the sufferer was arguing with an acquaintance, who accused him of dropping his canine whereas petsitting, close to Park Avenue at about 3pm. When the sufferer pulled out his telephone to indicate one thing to his buddy, the criminal grabbed the telephone, caught it in his pocket, after which began punching the sufferer within the face and head. A second attacker allegedly joined the perp and threatened to chop the sufferer with a field cutter.
Emergency responders took the sufferer to NewYork-Presbyterian Brooklyn Methodist Hospital with contusions and neck ache.
Purse-snatcher on Prince Street
A handbag-snatcher robbed a girl strolling down Prince Street on Aug. 26.
Police stated the sufferer was strolling towards her residence on Fleet Place at about 10pm when the brute pulled out a field cutter and informed her to "Give me the money," then grabbed her purse. The thief then hopped into an SUV parked close by, threw it into reverse, and fled down Fleet Place.
Gunmen assault worker
Two gunmen shot at an worker at a Myrtle Avenue restaurant on Aug. 23.
The sufferer was working at Crown Fried Chicken close to Carlton Avenue when two males walked in, pulled out their firearms, and began taking pictures, police stated, then ran out of the restaurant and towards Fort Greene Park. The sufferer fled the scene after his attackers left and was discovered on North Portland Avenue with gunshot wounds to his left thigh and proper foot. Cops discovered 9 shell casings and a cellphone on the scene of the crime.
Emergency responders took the sufferer to Bellevue Hospital for therapy.
Jerk throws glass jar
A jerk threw a glass jar at a person after an argument at a Flatbush Avenue Extension comfort retailer on Aug. 27.
Police stated the sufferer was arguing with the rogue at a 7/11 close to Fulton Street at about 1am when the girl threw a glass jar at him, putting him within the neck. The attacker shortly left the store, and officers couldn't discover her after they searched the world on foot. The hit left the sufferer with neck ache.
Man discovered stabbed
A cop discovered a person who had been stabbed a number of instances on Myrtle Avenue on Aug. 28.
Police stated an officer discovered the sufferer with a number of stab wounds on the nook of Navy Street at about 4am. The sufferer stated he had been attacked by a stranger, who ran away after the incident.
The sufferer was delivered to NewYork-Presbyterian Brooklyn Methodist Hospital.
Moonlight break-in at Moon Café
A sneak broke into Brooklyn Moon Café on Fulton Street on Aug. 26.
The café's proprietor informed police when he arrived at his business close to S. Portland Avenue at 7am, he discovered the entrance window smashed and a money register drawer with $400 in it lacking. Cops discovered a rock, which appeared to have been used to interrupt the window, on the ground contained in the restaurant.